Deliciously Raw Milk delivered to your door
How We Got Started
Ever since I sat on my grandfather's knee as a toddler, helping him to hand-milk his house cow, I have loved farming. Nothing could keep me away from the land and as I grew older I dreamed of having my own farm one day. Since then I have graduated from the Royal Agricultural College (now University) with a BSc honours degree in agriculture and have spent many years in the agriculture industry, working for others. In the back of my mind I have always kept alive my dream of farming for myself.
A few years ago, I took the first steps towards realising this dream. I bought a small number of hereford cows and kept them, and their calves, on rented land nearby, raising the males for beef and keeping the females for breeding. At the same time I was managing a large herd of 150 suckler cows for a neighbouring estate. It was at this time I became interested in mob grazing and soil health and I was lucky enough to be awarded a Nuffield Farming Scholarship to study mob grazing around the world (here's a link to my report:
Are Mob Grazed Cattle The Perfect Arable Break?
)
The scholarship literally changed my life! It opened my eyes to the environmental cost of producing food on an industrial scale and also made me realise that cattle, farmed properly, could heal our soils. It also fostered a growing awareness of the link between how food is raised and our own health. I was invited to become a director of the
Pasture Fed Livestock Association
and this reinforced the belief that feeding pasture for life to our ruminant animals was better for them, better for us and better for the environment. I realised that, to quote my
blog
, I must be the change I wish to see in the world! I wanted to produce grass-fed raw milk, one of the most natural, most wholesome and most delicious foods on the planet; I wanted to keep Jersey cows, as they are brilliant grazers and produce the richest, golden-yellow milk; and I wanted to allow the cows to graze all year round, milking them in the field rather than making them walk back to a static milking parlour each day.
A chance meeting with a neighbouring farmer in October 2014 led to the offer of some grazing land and I quickly sourced three in-calf Jersey heifers reared in a high-health herd in Norfolk. These animals have formed the nucleus of our small 100%-grass-fed raw milk micro-dairy and, after many months of planning, designing and equipping, the first raw milk was produced from our mobile milking parlour in February 2015.
Since then we have sold hundreds of pints and the feedback has been nothing short of amazing. Of course, the best feedback has been the repeat customers and we thank you all for continuing to buy our golden milk.
We hope to see many more of you soon.
Tom Chapman
May 2015
Our Sustainable Business Model (a work in progress!)
In 2010 when I was preparing for my Nuffield scholarship (see above) I came across something called "Holistic Management" and was immediately hooked. Traditional businesses are driven by economic profitability: They measure success by how much money they generate and how much profit they make. It is their one measure of success, their key metric. You will often hear that such and such a business has shed so many thousand jobs following poor trading results, or that another business has generated so many billion £'s profit.

Holistic management is different. It has three bottom lines:


Economic profitability
Social profitability
Environmental profitability
Each of these three strands are given equal weighting when measuring the success (or otherwise) of your business and they should guide every decision you make, but what are they?
To start with, economic profitability is no different to that found in traditional businesses. You have to set prices, purchase inputs and produce goods at levels which create a cash surplus, which can then be reinvested in supporting and growing the business. A business that is trading at a loss will not be around for very long!
Social profitability is the impact your business has on the people around you: for example your family, your employees, the wider community and your customers. It encourages you to consider the impact of a particular decision, so for example in my case I could buy a robot milking machine (yes they do exist and are very successful!). This could milk upwards of 60 cows at a time, with only one person required to look after it and the cows. But would this benefit the community? How many jobs would be lost or, conversely, how many jobs could I create by making a different choice? I explain more below.
The third strand is the environmental profitability. This demands that management decisions look at the environmental impact of your business. Are you trading in a way that is ultimately environmentally destructive or in a way that is environmentally sustainable?
Our 'Holistic goals' mission statement is:
We want to use grasses and other forage plants to capture as much sunlight as possible and to convert it into sugars and proteins. We want to utilise this forage to produce the freshest, tastiest, most wholesome milk from cows that live a life of freedom and of the utmost contentment.
We want to minimise the use of fossil fuels by allowing the cows to harvest their own feed and spread their own manure wherever possible.
We never want to use artificial chemicals or sprays and we want to use the cows and their forage crops to create natural fertility in the soils so that we may grow other food in that fertilised soil as healthily as possible. We want to give job opportunities to people who may otherwise not be able to find work and we want to be flexible and tailor the hours to fit in with childcare and other commitments - part time working is a key to this. We want to use labour wherever possible to carry out milking and bottling activities, even when a machine may be more efficient. We want to generate a cash profit to allow the business to grow and we want to give a proportion of these profits to charities to help those who are less fortunate.
I hope to expand on how we are meeting our holistic goals at a later date.
New cows mean more reliable raw milk supplies
We have seen demand for our grass-fed raw milk grow since we launched in March. The problem has been that as demand has grown the cows in our micro-herd have slowly reduced the amount of milk they produce (cows produce their peak amount of milk about six weeks after calving, then each day after this the amount gets less until they "dry off" - ie produce no milk - for a couple of months before their new calf is born). Consequently, demand exceeded supply last week and we have had customers unable to order as normal due to lack of milk.
We saw the problem on the horizon. However, there were several hurdles we needed to cross before we could solve the issue. The first was to save up for some replacement cows: Having invested heavily in the parlour and the original animals, not to mention the working capital needs of the business, funds have been tight and the cows had been put on hold until now (more about that in a moment).
The other major hurdle was to sort out some additional grazing. Large areas of the land we use are unfenced and don't have a water supply, so some of our savings have had to be directed towards laying water pipe and fencing, to give us enough grass to keep the extra cows we need. It's almost a catch-22!
The good news is that we are now in a position to rectify the situation. I visited a high-health Jersey herd in Norfolk this morning (it's the same herd that my original cows came from) and have picked out and agreed to buy two very pretty heifers. One is already milking and the other is due to calve in September. This means I will have more milk to sell and so you - my very important customers - should always be able to make your milk purchase.
I've not yet named the two new girls so if anyone has any suggestions, please do email me at grassfedrawmilk@gmail.com
Thanks, Tom
23rd August 2015
A new calf enters this world!
Good news! The second heifer I bought last month calved overnight. The heifer - Gloria - and her calf (yet to be named so feel free to send me suggestions) are both doing really well and enjoying today's sunshine.
In a few days the mother - due to her breeding and genetics - will start to produce far more milk than the calf can drink. This is good news for us as it means the surplus is available to sell. This is timely as milk from the other three cows is declining every day as the days get shorter and the weather turns inclement. The challenge I am now wrestling with is how to keep them milking and healthy through the winter when they're 100% grass-fed (no corn for them) and are outside throughout (albeit with a very adequate shelter which they retreat to during the worst of the weather).
I have some plans and will be experimenting to see what works best. Watch this space.
Tom Chapman
26th September 2015
More Cows (and more milk!) and a new home for winter
So much for my grand claims back in August (when I said that more cows would mean a more reliable milk supply). Because of problems (more details below), we have been running very short of milk over the past two months and many of you will have noticed we have been unable to take orders online for a while now. However, there is GOOD NEWS! We
have another two cows on their way to join the herd. Hopefully they will arrive on or around the 20th December, just in time for Christmas. One of them has calved and the second will calve in the new year.
Part of the reason for our shortage was due to an unforeseen problem with one of our heifers. As I mentioned above, Gloria had a lovely little calf mid-September (who we called Joe) and all seemed fine. However it turned out that she had a rare condition which meant she wouldn't "let her milk down". The milk is held in their udder and requires a hormonal trigger (the release of oxytocin by the cow when stimulated by her calf) which relaxes the sphincter muscle in the udder and lets the milk down into her teats. Very, very rarely, this doesn't happen, the cow doesn't let her milk down and slowly she stops producing milk. There's nothing we can do but feed the calf by hand and wait until she has another calf. Hopefully second time round she will be fine - it often works like that!
We have also been on a steep learning curve regarding grass-fed milk production during the winter. There is a practical reason why farmers feed grain: It is packed full of calories, energy for the cow to produce large quantities of milk and to keep warm. We have chosen a different route and have forsaken grain in favour of an all-grass diet. This means that the cows' energy intake is lower and so a greater proportion of that energy is used in keeping warm, at the expense of milk production.
Up until last week, the cows were outside too, and although we had them wrapped up well (in horse rugs - I've never seen anyone else do this with cows!) I made a decision that, for the welfare of the animals, they needed to be inside, sheltered from the worst of the winter weather. Fortunately I knew of a neighbouring farmer with a spare cattle yard which he has agreed to rent to me for the winter months. I've shipped some preserved grass (silage) in for the cows to eat, given them a lovely straw bed to lie on and have brought my mobile milking parlour along too. Hopefully this will make them even more comfortable and contented and will help milk yield to increase too.
Online sales should start again just before Christmas so watch this space and thank you all for being so understanding and so supportive - it means a lot to us!
Charlie the Bull and some sweet meadow hay
January is proving to be an interesting month in the life of our dairy herd. Cows need to have calves to trigger their milk production and two of the cows have been artificially inseminated (which is where semen is taken from a top jersey bull and used to impregnate the cow). However, we still have several animals that are not in calve and need to be if we're to continue to produce milk to meet the demand.
Cue the introduction of Charlie. He's a four year old bull and is a beef shorthorn breed. He's on loan from a farmer-friend of mine who has a herd of beef shorthorn cows (and three bulls) near Baldock. He's settled in really well and has made friends with all the cows - we're hoping he quickly becomes more than just friends with them.......!!
We have also taken delivery of some hay and the cows love it. Up to now we have been feeding them on silage which they have liked well enough (silage is grass that, if cut and stored immediately in anaerobic conditions, pickles itself in its own juices and which will then last for months if not years). This has been going down well and the cows have been milking ok on it. However, the hay - dried grass - which we introduced ten days ago, is super stuff. The cows go mad for it and, best of all, show their appreciation by giving quite a bit more milk. Sweet meadow hay, it's what we named our company after (Meadow Hay Limited). It seems fitting that the cows love it so much!
Nature Magazine on raw milk, plus a new calf!
This is lifted straight from (the very esteemed and highly regarded scientific journal) Nature:
Numerous epidemiological studies have shown that children who grow up on traditional farms are protected from asthma, hay fever and allergic sensitization. Early-life contact with livestock and their fodder,

and consumption of unprocessed cow's milk

[my bold letters]

have been identified as the most effective protective exposures. Studies of the immunobiology of farm living point to activation and modulation of innate and adaptive immune responses by intense microbial exposures and possibly xenogeneic signals delivered before or soon after birth.
This reinforces the belief of many consumers that properly produced raw milk is an important part of their diet, alongside other fresh, unprocessed foods. A link to the full article is
here
.
We also have a new calf! Houdini has had a healthy bull calf, born overnight without any assistance from us. It's her second calf and second male calf - his half-brother is happily grazing a grass paddock on land just outside Harpenden. His half-brother has lived outside all winter (albeit with a field shelter to retreat into during very inclement weather) along with three other animals born last spring. They've shared a bale of hay each day for the past six weeks but, as the grass is slowly starting to grow, they're eating less and less hay.
No prizes for guessing why Houdini is so named, by the way: As I mentioned in an earlier blog, she's an escapologist given half a chance. Lets hope her sons don't follow suit....!
"Yesterday it was still grass" - The miracle of milk!
Our cows have moved into a meadow next to a chalk stream and are happily grazing the sweet grass and enjoying the sunshine.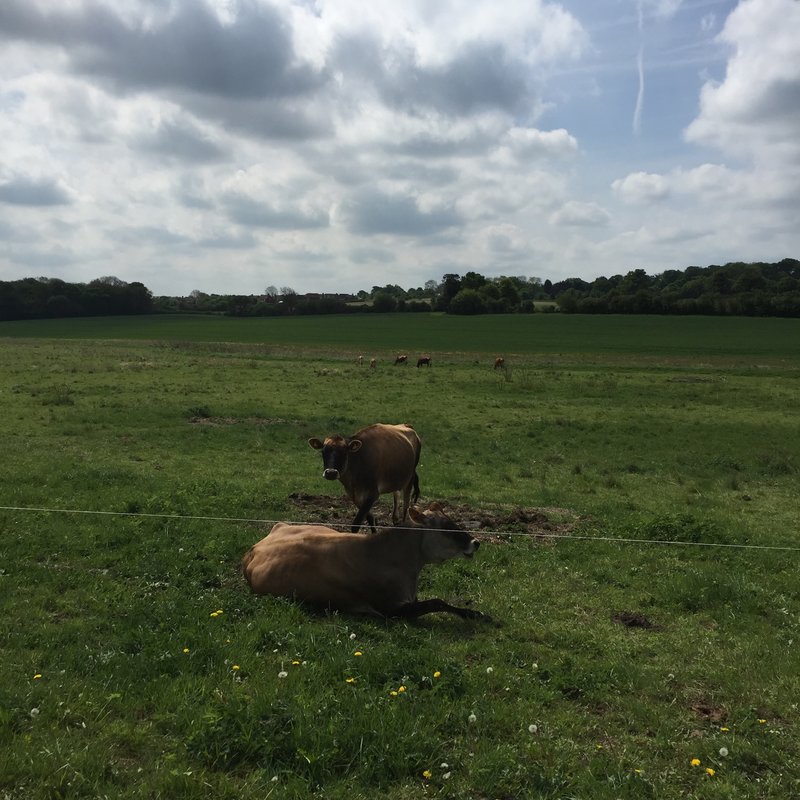 Cows grazing the meadow alongside the chalk stream. The milkers are in the far distance, the two (much lazier) dry cows are in the foreground
I love milking at this time of the year. The sun is getting stronger every day and the days are getting longer. This means that there's more time each day for the grass to grow and, more importantly, to produce the sugars that are vital for life on earth.
This may seem like a bold claim but the only reason humans exist is because of plants' ability to capture the sun's energy and trap it in a glucose molecule. Everything we do is powered by this simple process (we call it photosynthesis).
I don't want to get too technical, but just ponder for a moment what happens in nature. A leaf is dowsed in sunlight. The leaf uses water from the ground and carbon dioxide from the air - just those two ingredients, nothing else - and uses the sun's energy to combine the two together into a new molecule: A glucose molecule. There is a "waste" molecule produced too as part of the process: Oxygen, which is released into the atmosphere (and which we breathe)
The "energy bonds" holding the glucose molecule together are stable, transportable, captured sunlight! THe plant might modify this glucose molecule - join lots together to make starch, or add nitrogen and other elements to make proteins, for example, but it's this capturing of sunlight that is at the heart of the process.
Is this energy important? Well, imagine when you have a bonfire in your back garden. The heat given off is sunlight - it is sunlight energy captured by the plants, trees etc when they were photosynthesising, When you burn it you break the bonds (it reverses the original process, which is why you need oxygen for a fire to burn: photosynthesis gives off oxygen as the energy bonds are formed, burning requires oxygen to break the energy bonds.
When we eat food, we break down the energy bonds, releasing sunlight energy into our bodies. Again, we need oxygen to do this, reversing the process of photosynthesis. And, the waste product of breaking the energy bonds is carbon dioxide, which is why we breathe it out (to be used by the plants to form new energy bonds in their glucose molecules, as they photosynthesise!)
So, we are driven by sunlight too, but what about cars, planes, trains and ships? Well, they're burning fossil fuels, and the energy from fossil fuels came from...... yes, no prizes for saying it came from photosynthesising plants, just ones that captured their sunlight energy millions of years ago.
Back to the humble grass plant. At this time of the year, when the sun is shining, the grass plant is capturing lots of energy, turning it into glucose and subsequently into all the constituent parts of a grass plant. The cow eats the grass, grazing intermittently throughout the day (and night) before lying down and ruminating - chewing the cud! Inside their large stomach - the rumen - is a cauldron of bacteria, breaking down and digesting the tough cellulose in the plants. As the digested material (and the bacteria) pass through the animal's gut, nutrients are absorbed and, in a miracle all of its own, the cow transforms the captured sunlight and other nutrients into milk.
Gorgeous, creamy, wholesome, nutritious fresh milk.
Yesterday, it was still grass!
Goodbye Charlie, Hello Moses
You may recall that we borrowed a magnificent beef shorthorn bull for a short while in January. He was entertaining the cows for just over a month before he had to return home to his own ladies. The good news is that he's been replaced by another native-breed beef animal. This time we've chosen a Traditional Hereford who goes by the name of Moses.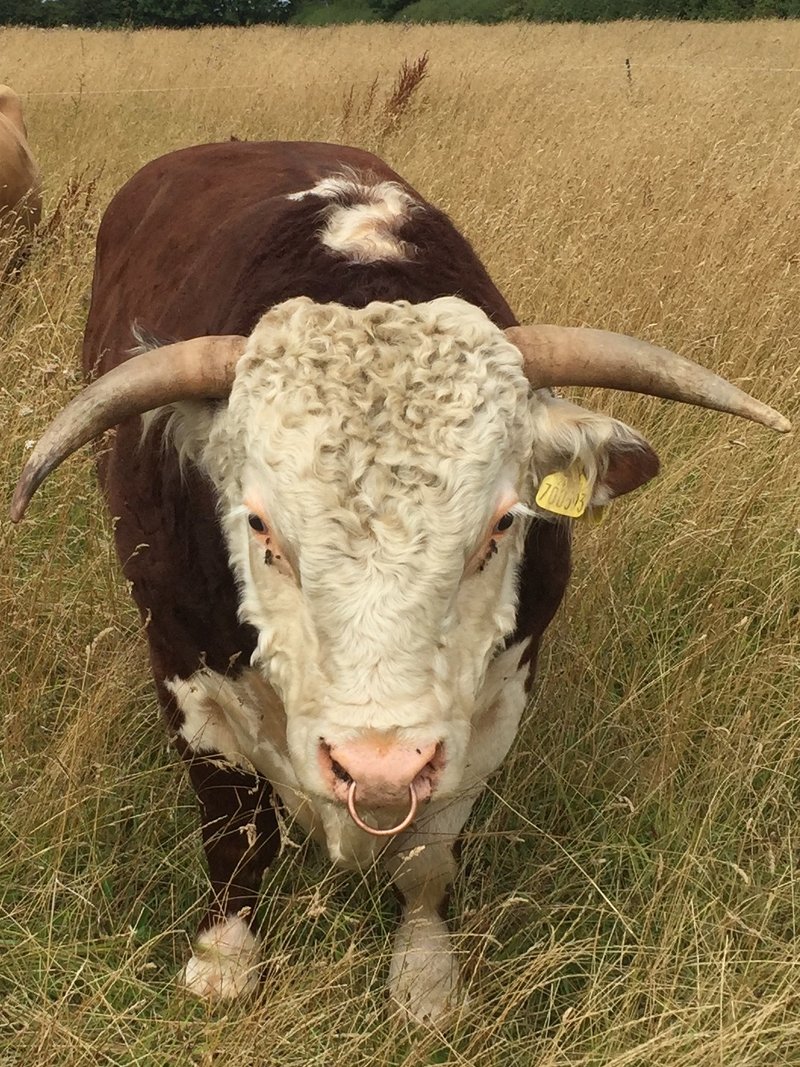 Moses is seven years old and is a registered pedigree animal. Being a traditional hereford means that his ancestry can be traced all the way back to 1886 and it also means he and his ancestors dont have any imported bloodlines - mainly North American genetics - which the modern, taller Herefords have. He really is living, breathing history. A link to the past and to cattle that used to roam the Welsh Marches in centuries past.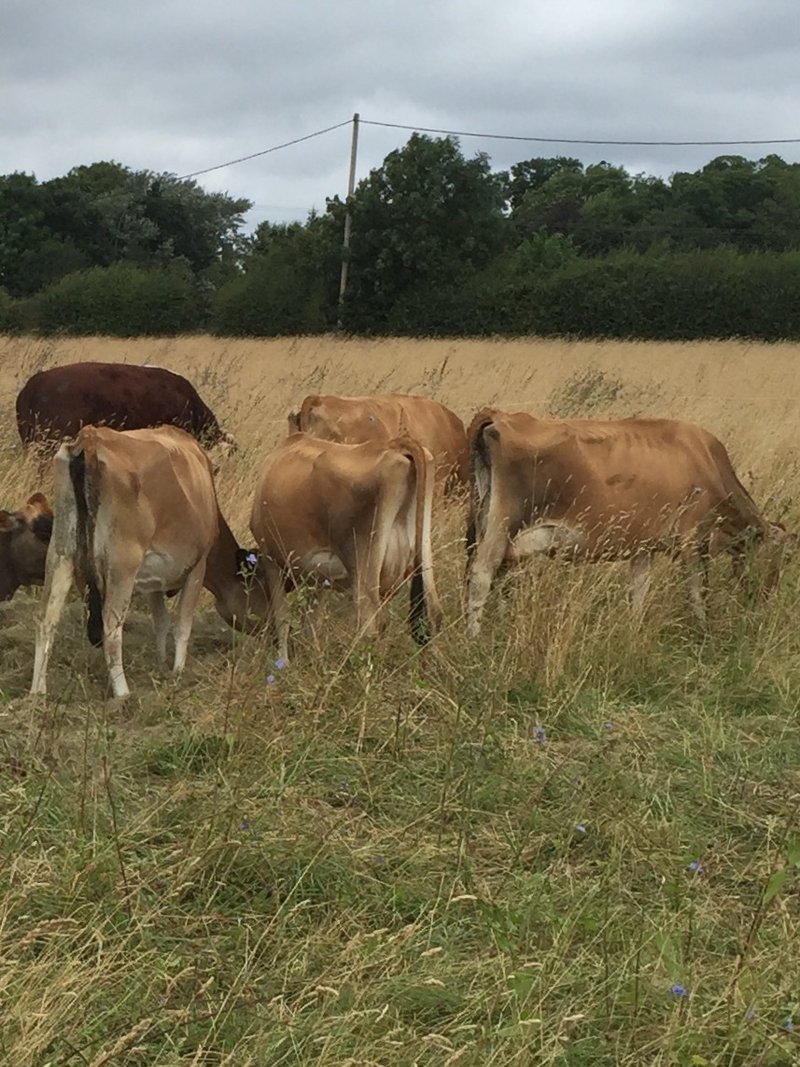 The cows all seem to have enjoyed the company of Charlie and Moses and all but one of them are pregnant. It could be a busy spring next year, if all goes to plan.
We've been grazing the cattle on some scrubby ground that would otherwise be unutilised. It's too rough and stony for growing crops for human consumption and instead is a mass of weeds, herbs and grasses. This is where veganism falls down, as livestock are able to utilise areas like this - and mountainous regions, marshland etc - to provide food for us all.
Thinking about how I've described the grazing above, the term weed is probably doing many of the plants a disservice as they're a vital component of the cows' diets and bring real variety to what they eat each day. I'm sure they also contribute hugely to the colour, taste and nutrient value of the milk: All these different plants providing minerals, vitamins and goodness which the cows pass on into their milk.
The cows particularly like the common hogweed plants and it's great to see them racing each other to eat as many as they can when they enter a new strip of grazing. They also delicately remove the tips of creeping thistles, carefully wrapping their lips round the top of the plant and biting off the tender leaves.
If you've yet to try our milk then I urge you to do so. It's particularly good at the moment, rich and creamy and unbelievably delicious. I can courier the milk to anywhere in the UK or you're welcome to collect if you're close to the Harpenden area - just let me know in advance.
Tom Chapman
16th August 2016
Why The Bull?
Probably one of the best questions I've been asked - and several people have asked the same question - is why I'm using non-Jersey bulls to breed with my cows. As you may recall from earlier blogs, Charlie (who visited briefly last winter) was a beef shorthorn and Moses, my resident bull, is a Traditional Hereford.
The reason is simple. Safety!
Dairy bulls are notorious for their dangerous temperament compared to bulls from the beef breeds and, of the dairy breeds, Jerseys have by far the worst reputation. They really are wicked animals and certainly not safe to have around under a grass-fed system where cattle are kept outside, often in fields close to footpaths, for most of the year. Jersey bulls require a safe handling system, including a secure compound, the ability to shut the bull into half the pen at a time (to allow access to the other half) and other vital safety measures.
Now it's important to highlight at this point that NO bull can be trusted, beef or dairy, Jersey or Hereford. I always carry a stick into the field with me and I never, ever, turn my back on Moses. I'm always aware of where he is and aware of his body language and his general demeanour. However, as a rule, when he's with his 'ladies' he's quite calm and contented.
The downside of a beef-breed is that the calves that are born will not be pure jerseys. I am committed to milking only pure Jerseys so none of the cross-bred calves will come into the milking herd. Instead, I will use AI (artificial insemination) to serve those cows who I want to breed replacements from. I will also continue to buy additional heifers from the two very good jersey farmers I know and where I bought my nucleus stock from.
The cross-bred heifers will have their own calves and will also play nursemaid to the dairy-born calves too. This will help to improve still further the welfare of all offspring born on the farm. Exciting times, especially as the first two cows bred by Charlie are showing signs of imminent birth. Watch this space!
Tom Chapman
10th October 2016
Problem Solving and Other News
Time flies as we stumble from one problem to the next. Fortunately the past five months since I last wrote have seen a remarkably dry and benevolent winter, meaning the dry cows, bull and calves have been able to remain outdoors, grazing what little grass is available, heavily supplemented with haylage. Meanwhile the milkers have been in their cosy, covered straw yard - there are few better sights than, when checking them last thing at night, they're all lying there contentedly chewing their cud.
We've had a new calf! He was born a couple of days' ago and is the first offspring from Moses, our Hereford bull. We've three more cows who are very close to calving, another one who (hopefully) will produce in the next month or so and then a number of cows at various stages of lactation.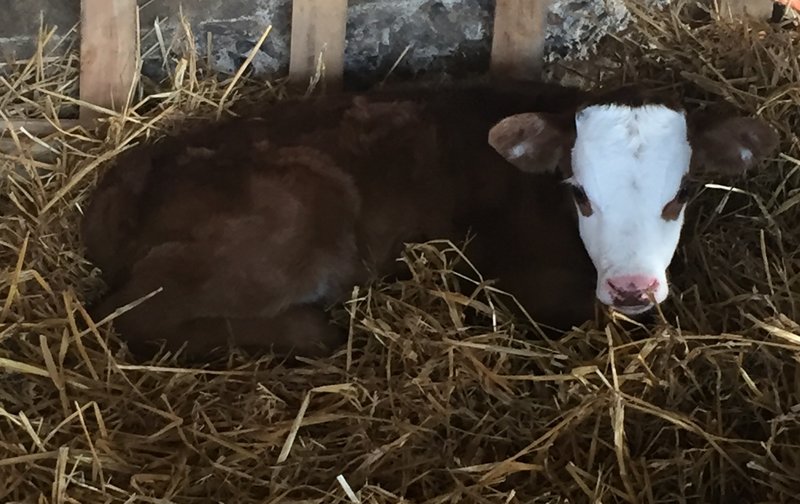 Turnout is fast approaching: The day we allow the milkers out into the fields to graze the deliciously sweet spring grass. As with all aspects of running a small business, this brings its own headaches and problems. We've got another 25 acres of grassland for the cows this year which is great news. Less good is the fact there is no water supply to the field, so I've been wrestling with how to solve this. There is a river running alongside, however we don't want the cows damaging the river banks and muddying the crystal clear water of this chalk stream.
Therefore, part of the solution lies in acquiring a very large (2,000 litre) water trough, a petrol-driven water pump and a good length of hose. Water will be pumped from the river each day into the trough for the cows to drink. What this doesn't address is the need for clean potable water, required to wash down the milking machine, pipework and parlour each day. Thus, an additional sealed tank has had to be added to the mobile milking parlour for this purpose.
We've also several lengths of fence to erect, to make the field stock-proof. Add in the various, well-used, footpaths that cross the land and it's not going to be straightforward. Electric fence will be the order of the day, keeping cows away from people. I only hope the people respect the livestock and don't let their dogs run wild!
With all that's involved, it's been a fascinating process, building a small business from scratch. Every day there are problems to overcome and we've really had to be a "jack of all trades". One day I'm a logistics expert, sorting out parcel delivery across the UK, the next day I'm a quasi-vet, helping a cow to calve, then add in roles as a plumber, marketing 'expert', engineer, salesman, biologist, nutritionist, website designer, bookkeeper, HR manager, mechanic, the list is endless. I console myself that if it were easy everyone would be doing it!
In other news we successfully passed our TB test recently. We borrowed a cattle crush, which is a narrow steel race down which the animals walk which doesn't give them room to turn round. There's also a gate at the end with a head yolk to restrain them. Needless to say, the cows were absolutely fine as they're handled every day. However Moses, our bull, was slightly less happy(!). It was a reminder of the power of the animal as he moved the hurdles and crush with his head and heavily-muscled neck, seemingly with ease. Fortunately, once in the race he calmed down and the test itself only take a few moments. We did have to repeat the process three days later, though, to check the results of the skin test......
As I write, the sun is shining, the grass is growing, today's deliciously creamy milk is chilling ready for bottling and all is well. What will summer bring?
Tom Chapman
28th March 2017
Confused Cows!
Cows are simple creatures. They like habit and routine and are comfortable with life if they know what's going on. Every day, at roughly the same hour, we arrive in their field and park the mobile parlour near to their grazing. In turn they wander in to be milked, quietly chewing their cud as we go about our business. Since I started I've had an old Rice horse box which has acted as my milking parlour. The cows enter the left hand stall, we do what we need to do and they exit via the front ramp which is on the left hand side. This part, and the fact that the trailer has come to the end of its natural life, are the critical parts to this particular story.
It was probably the wheel falling off that was the final straw in Act 1 of this escapade. I paid very little for the trailer over two years ago and for the past few months we (well, mainly Sam, the girl who milks for me most days), have nursed the trailer on, willing it to not give up the ghost. Rust was its nemesis: The rear ramp's hinges were coming away, the floor was starting to perish and the axle of the aforementioned wheel was badly corroded. Eventually, and inevitably, things came to a head and I needed to buy a replacement.
After much searching I found what I was looking for: An Ifor Williams horse trailer in good condition and at a sensible price. I saw it, bought it, brought it home and transferred all our kit into it. Simple, I thought.
Hmmmm. Let Act 2 commence......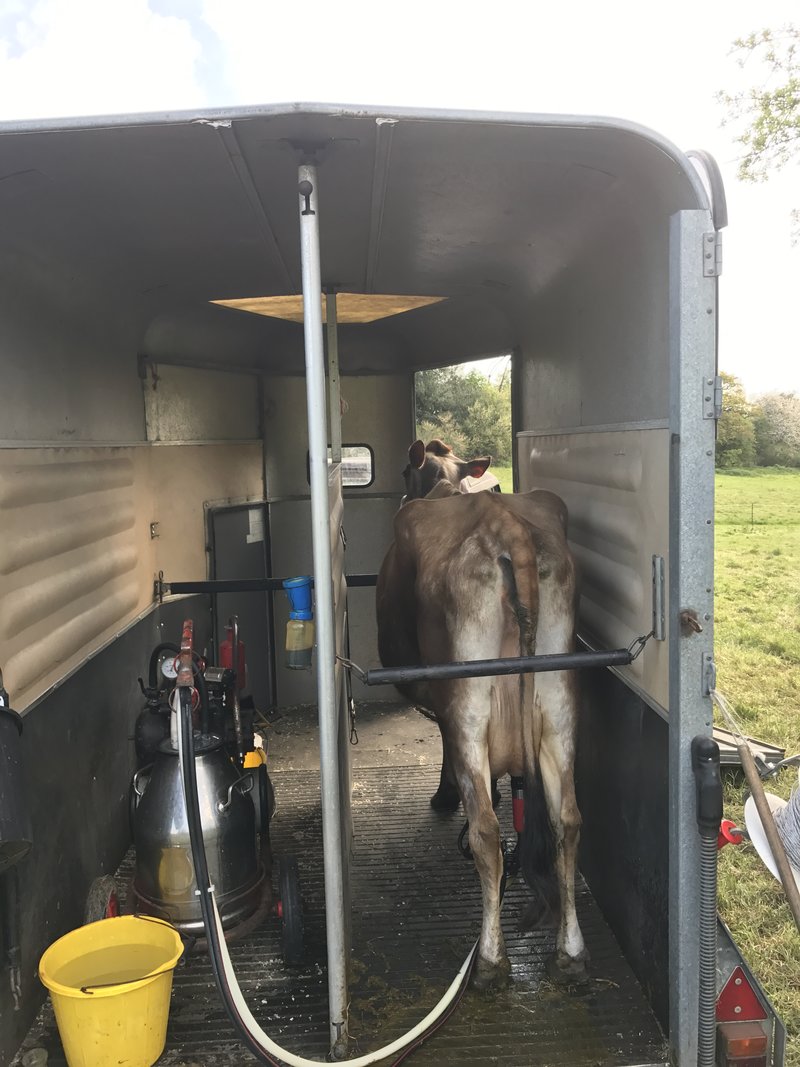 The issue was the design of the trailer. This one had an exit ramp on the right hand side, which meant they also entered the right-hand stall, the opposite to what they were used to. I've mentioned that cows are creatures of habit. Well, the older ones just couldn't accept that they weren't to go into the left hand side stall. Despite it being full of milking machine, buckets and other paraphernalia, they were determined to push their way in. Much cajoling, persuading and patience was required. Houdini and Queenie, our two oldest cows (and therefore the ones with the most ingrained habit) were particularly tricky.
Worse was to follow. Once in, they stood nicely and allowed us to milk them but then, when we went to let them walk through, they just stood there looking first at me then at the solid wall of the trailer on the left, where the ramp
should
be. Their very expression said "how do we get out, the ramp's not down?"
I pointed to the huge doorway on their right. I talked to them in ever-more colourful language. I even showed them how to do it by walking up and down the ramp in front of them. One - Clara - just couldn't grasp it. In the end I dropped my shoulder into her rump, just below the tail, and heaved her towards the gap. Her two front feet braced, she resisted, I rested, giving her time to contemplate once more. Slowly, realisation dawned and hesitantly, uncertainly, she made her way down.
That was on Sunday. By today (Tuesday) they're walking up and down the ramps like they've done it all their lives. The new habit has formed but for a while they were utterly confused, the poor cows!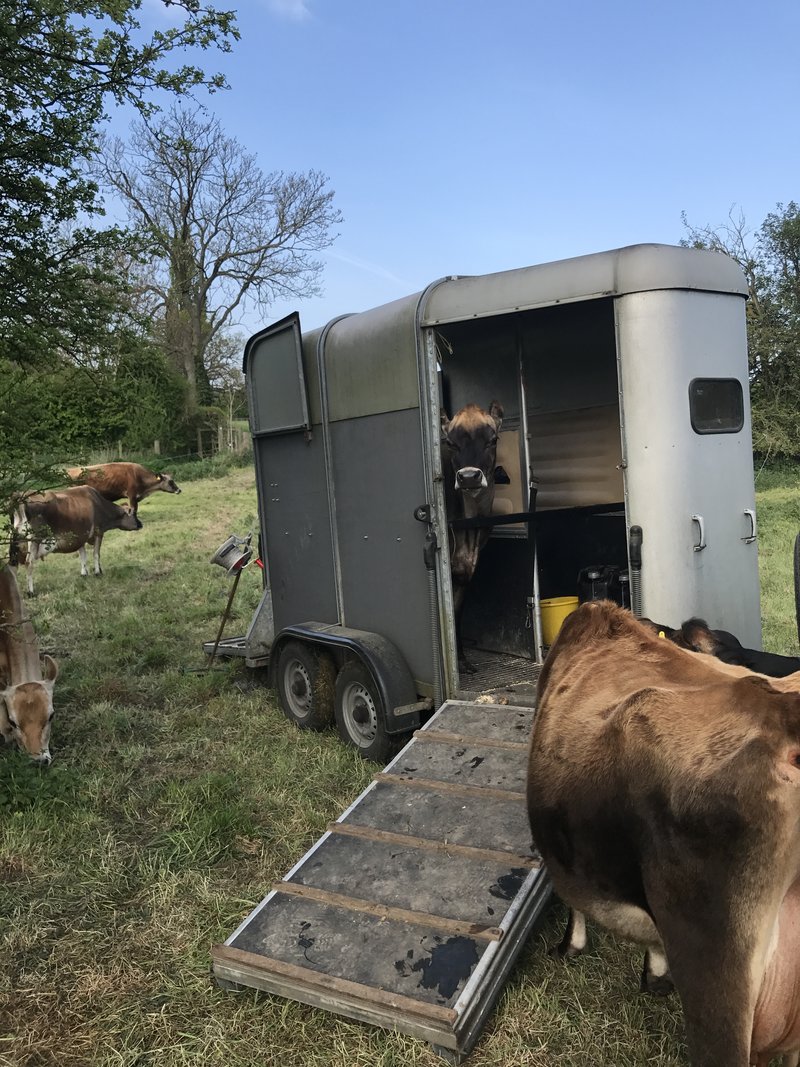 Tom Chapman
25th April 2017
Cream, Customers and Converting Buildings
The grass-fed jersey cow is a wonderful creature. It turns grasses and herbs, natural plants that humans can't digest, into the most wonderful golden-yellow milk. Many of our customers enjoy the daily health-benefits of drinking pure wholesome full-cream milk, raw and unadulterated. However some prefer a lower fat version. We are delighted to announce that the recent purchase of our cream separator, we are able to offer skimmed milk too. We, or the separator, removes the cream using centrifugal force. Nothing else is done to it, other than chilling and bottling, so you're able to enjoy all the benefits of 100% grass-fed raw milk, just with less butterfat content.
We also have small amounts of the most wondrous double cream. Thick and gloopy and with the vivid yellow from the beta-carotene in the grasses eaten by the cows, it truly is a delicious treat. It will also make wonderful butter and I've made several batches for our own use, both with a Kenwood Chef (the easy way) and with a half-filled bottle (slightly more work but eminently more satisfying!)
We have also been hunting round for some food premises and are hopeful that we've found something suitable: A local farmer has a large shed, currently used for stabling horses, which would convert to a great food processing area. We want to expand our product offering by making butter, various cheeses and a range of other dairy goodies. As always, funding is the issue so if anyone has any bright ideas about how to carry out the work economically - or if anyone feels like financially supporting a growing business - do please get in touch.
Tom Chapman
6th June 2017